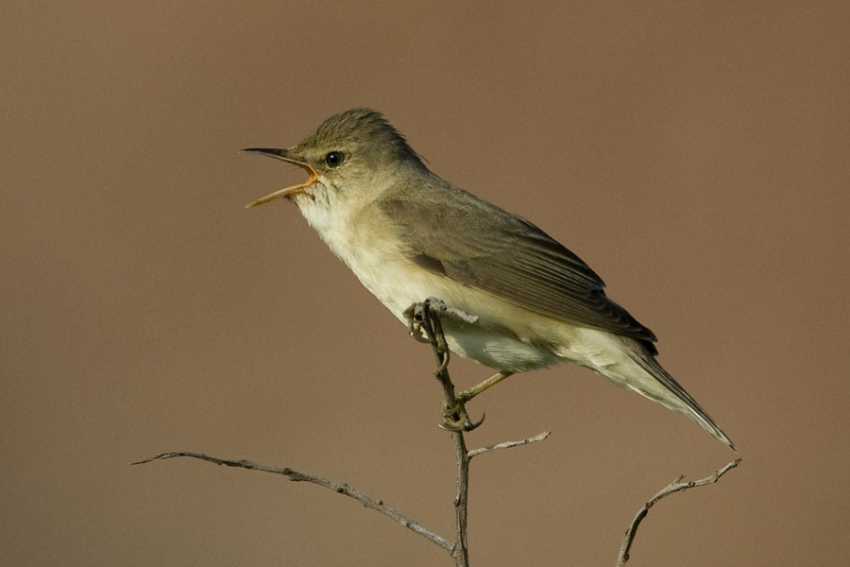 De bosrietzanger is zeker geen bosbewoner, maar wel een rietbewoner, als daarin wat kleine bomen of struiken staan. Hij zingt het liefst vanuit zo'n boompje of struik.
Qua uiterlijk lijkt hij als twee druppels water op de kleinere karekiet, die ik vorige maand besprak. Hij mist echter de lichte ring om het oog.
De zang van de bosrietzanger klinkt totaal anders dan die van de kleine karekiet. Hij zingt eigenlijk een eigen mix van zang van allerlei vogels, die hij in zijn leven heeft horen zingen. De zang is een soort aaneengeregen mengeling van diverse vogelgeluiden; hij is dus vooral een imitator.
Hij arriveert als het grootste deel van de kleine karekieten al lang in ons land is teruggekeerd uit het zuiden, dat is vanaf de tweede week van mei. Hij zingt tot ver in juli, vooral 's nachts laat hij zich vaak horen. De bosrietzanger leeft niet graag in riet dat in het water staat (terwijl de kleine karekiet dit juist wel aantrekkelijk vindt).
De bosrietzanger overwintert in Oost-Afrika en trekt zodoende het liefst via de oostkant van de Middellandse Zee naar zijn winterverblijf. Omgekeerd herhaalt hij dat in het voorjaar, geen wonder dus dat hij flink later dan de kleine karekiet bij ons terugkeert.
In het Rembrandtpark is de bosrietzanger een schaarse broedvogel, die we in het zuidelijk parkdeel moeten zoeken. Net als de kleine karekiet, gaat het ook de populatie bosrietzangers in ons land voor de wind. Het aantal broedparen is van 1979 tot nu 4 x zo groot geworden!
Teun van Dijk
Leave a comment
Kalender
December 2023
M
T
W
T
F
S
S
1
2
3
4
5
6
7
8
9
10
11
12
13
14
15
16
17
18
19
20
21
22
23
24
25
26
27
28
29
30
31
Archief