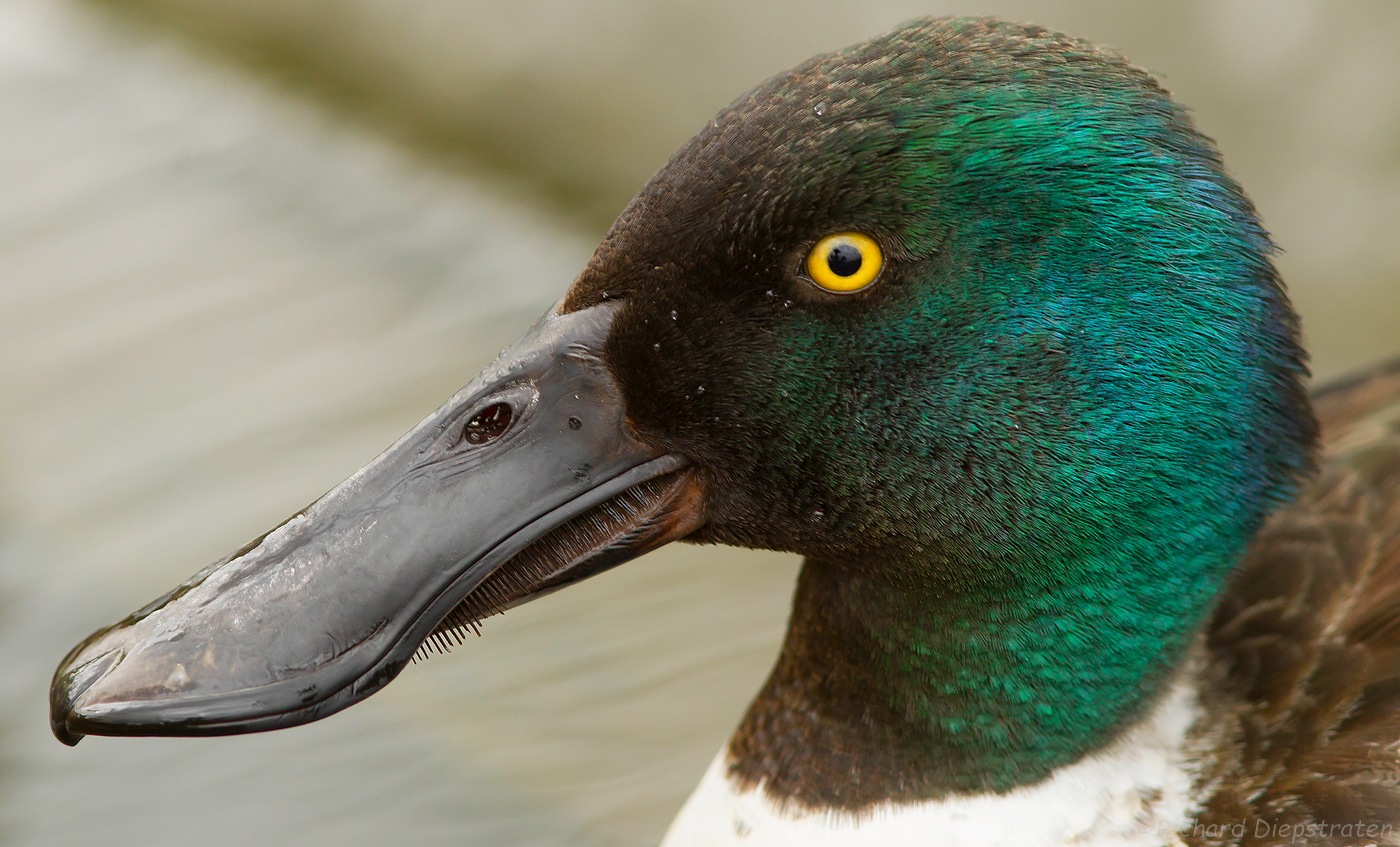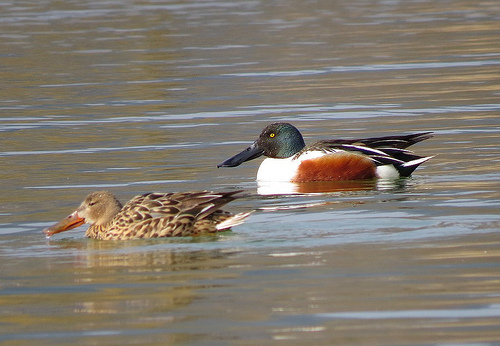 De slobeend is geen broedvogel in het Rembrandtpark, maar wel een schaarse bezoeker. In Nederland komen zo'n 9.000 – 13.000 paartjes slobeenden tot broeden. Ze broeden buiten de stedelijke omgeving. Liefst in waterrijke natuurgebieden, maar ook langs slootjes in weidegebieden, als die niet intensief (veelvuldig maaien, of door veel koeien laten begrazen) beheerd worden.
De meeste slobeenden die we te zien krijgen, komen uit Noordoost-Europa. Vanaf eind september tot half november vliegen ze ons land binnen, en zo lang het niet gaat vriezen, blijven vele hier hangen. Bij invallende vorst trekken ze verder naar het zuiden tot rond de Middellandse Zee. Vanaf maart vertrekken ze dan weer naar hun broedplaatsen.
Het eerste dat bij deze eend opvalt, is de enorme snavel. Die is heel breed en ook lang. Heel bijzonder is dat de snavel, zowel de onder- als de bovensnavel, voorzien is van een soort baleinen, zoals we die kennen van walvissen. Op de kopfoto van het mannetje zijn die baleinen enigszins zichtbaar. Met die baleinen filteren deze eenden hun voedsel uit het water. Dat voedsel is vooral plantaardig, maar ook waterinsecten worden niet versmaad. Als ze op het water dobberen, lijkt het haast of ze helemaal geen hals hebben, vergeleken met de zwemhouding van andere eenden. Dat heeft te maken met het feit dat ze hun voedsel vooral aan het wateroppervlak zoeken.
Het vrouwtje lijkt erg op het vrouwtje van de wilde eend. Het mannetje heeft wel dezelfde kopkleur als de wilde eend, maar een geheel witte borst en kastanjebruine flanken. Ze hebben net als de wilde eend oranje poten. De rug is grijsblauw, net als de vleugels. Als ze die uitslaan, zie je een groene spiegel afgezet met een brede witte band.
Het is een heel zwijgzame eend. In deze tijd bestaat tot de vorst invalt, een goede kans zo'n eend of eendenpaar op de vijvers in het park aan te treffen.
Teun van Dijk
Leave a comment